Traverse City Boardman River
"Float Trips"
Canoe / Kayak / Tube / SUP
Also See: >> Boardman River Downtown Traverse City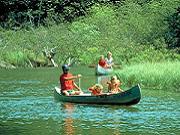 The Boardman River is located in Grand Traverse and Kalkaska counties in northwest lower Michigan. It rises in the Mahan swamp in north central Kalkaska County and flows in a southwesterly direction for 40 miles. Turning north for nine miles, it empties into Grand Traverse Bay at Traverse City. The Boardman River system drains a surface area of approximately 186,000 acres and includes about 130 linear miles of stream.
The Boardman is spunky but not rough, keep your eyes on the currents in front of you and you'll be able to steer out of any situation with ease. You will have plenty of opportunity to relax and watch for wildlife. Be on the lookout for beavers, muskrats, deer and other riverside residents as you follow the water's path. Don't forget to peer below the surface since this area of Michigan was rated one of the top 12 Fly Fishing Retirement Towns by Fly Rod & Reel Online, - the Boardman is a designated Blue Ribbon trout stream.
When you're ready for those sandwiches, the river's sandbars and grassy banks are all picnic-perfect. Sit back, chow down and let the river work its magic - but please please leave it pristine,,, ever find trash on the river? please pick it up! be a Stuart of the river...
Boardman River Put In And Take Out Locations For Float Trips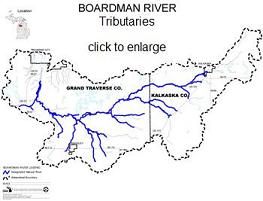 While the Boardman River is endless on day trip put-in and pull-out destinations, we are going to focus on Ranch Rudolf (RR) to Traverse City sections of the river, starting from RR.
Ranch Rudolf canoe tube rentals
6841 Brownbridge Road
Traverse City, MI 49686
Phone: (231) 947-9529
River: Boardman River
Type: Intermediate -- Advanced
Length of Trips: 1.5 - 3.5 hours
Rent: canoes, tubes, boats, pontoons. Also horseback riding, hayrides. Camping and lodging.
20 minutes from downtown: Drive south out of Traverse City on Garfield Road; about 10 miles down, turn left onto Hobbs Highway, and in approximately one mile stay left at the fork. Turn right at Ranch Rudolf Road and follow the signs. Choose your adventure - a four-mile trip is about one and a half hours; a nine-mile trip is about three and a half hours. Trips are scheduled every hour on the hour.
---
Boardman River Day Trips Heading West to Traverse City and West Bay
1. Drop in at the Forks Camp Ground 2.5 miles east of Ranch Rudolf (RR) on Ranch Rudolf Rd. and pull out at RR for the 3.5 hour trip.
2. Drop in 1.2 miles east of RR net to the river for a 1.5 hour trip back to RR
3. Drop in at either of the above two spots and pull out at Shecks Campground grassy riverside parking area, add 30+ minutes to the above float times.
Shecks to River Rd Bridge, Approximate 4 hour kayak float time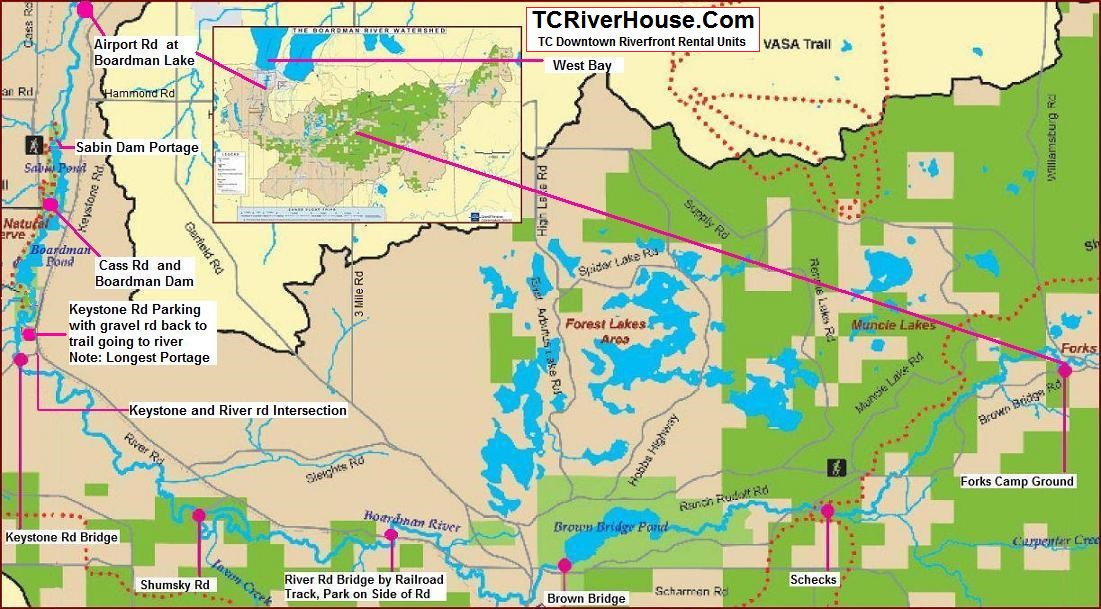 click detailed float map to enlarge >>
Heading to the next drop-in, go west on RR road 2.8 miles to Hobbs Hwy, turn left on Hobbs Hwy and go 1.5 miles to Garfield Rd, then left - south on Garfield 1 mile to River Rd, then turn right on River Rd and go 1.2 miles to a bridge over the Boardman River.
4. Drop in at this River Rd Bridge and pull out at Shumsky Rd Park. Driving distance from the bridge to Shumsky Rd. is 2.1 Miles
5. Drop in at Shumsky Rd. Park and pull out at Keystone Rd. Bridge for an easy pull-out, or, continue on thru the tubes under Keystone Rd. and down river thru some of the best rapids on the river. This is just an additional 0.5 mile stretch to the next pull-out that's just south of River Rd on Keystone Rd. Be warned!!! this pull-out spot is a longer drag from the river to the loading area.
Quick Stats for the above mention rapids section after Keystone Rd. AW Class: I-II - Length: 0.5 miles
So you know... from the intersection of River Rd and Keystone Rd. you can see both of the above mentioned pull-out/putt-in spots. The Keystone Bridge spot is just north west of River Rd., and the after Keystone Bridge pull-out parking lot is just south of River Rd. on Keystone.
The distance from the corner of Shumpsky Rd and River Rd. to Keystone Rd. is 2.2 miles
take a break. here's a refresher before moving on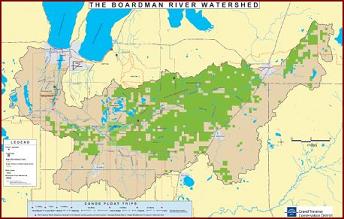 Some people prefer whitewater tubing, rafting or canoeing and some kayaking, either way the above mentioned is an area of fun faster water that not many other rivers in the area have.
Boardman River Full Size Float Map click to enlarge
see detailed float map above
Long Trip: Boardman River - 2.5 miles East of Ranch Rudolf - 24 miles to TC. For experienced canoeists. Designated as a Wild-Scenic River. Put-in at Forks Forest Campground 2.5 East of Ranch Rudolf. Dam portages necessary. Known for trout fishing. Take-out at Traverse City on Traverse Bay.
Road Miles -
Shumsky Rd to Airport Rd = 6.1 miles
Shumsky Rd to Keystone Rd. = 2.2 miles
Keystone Rd to Lone Pine =
Lone Pine to Cass Rd / Boardman Dam =
Cass Rd / Boardman Dam to Sabin Dam = 1.7 miles
Sabin Dam to Airport Rd =
Beitner Creek / Keystone Rd. Bridge in-out just north-west of River Rd.
Keystone Parking Lot in-out just south of River Rd
Lone Pine- Grand Traverse Natural Education Reserve in-out on Drained-Boardman Pond
Boardman Dam - Steep Embankment pull-out, Portage across rd & down hill if continuing.
Sabin Dam - Portage from right-east side of dam, down trail to boat slide and dock.
Airport Rd / Boardman Lake - pick anywhere from here to get in or out, easy access area.
Union St Dam - beach on left-south side of dam and portage over.
Grand Traverse Bay - Splash and Play, You Made It... Hurray!