Traverse City Michigan Downtown Sandy Beaches
Grand Traverse Bay And Islands Information
Downtown Beaches

Best All-round Convenient Beach: The area's most populated if not it's most popular beach. Itís hard to beat a beach that has over 1500 feet of sandy shore with picnic tables, lifeguards and restrooms along West Grand Traverse Bay in Downtown Traverse City. It can get particularly crowded on hot midsummer afternoons, but all you have to do is wander east down the shore line a little way to find a quieter spot closer to the mouth of the Boardman River It is adjacent to Clinch Park Marina, North-East of Cass Street on Grandview Parkway.
Traverse City MI (231) 922-4903
Best Beach for Contemplating the Human Form: Just west of Clinch Park and the Open Space, Traverse Cityís newest beach came into being only a few years ago when several old buildings were removed from the waterfront. It takes its name from the beach volleyball courts located here (which hosted the 2005 World Cup beach volleyball tournament, in case you were interested) and is especially popular with the young, lean and well-tanned, even those who donít play volleyball.
Located at the end of Hall St. on Grandview Parkway Traverse City Mi
Best Beach for Amateur Archeologists and Snorkeling: A small, quiet beach at the end of Division Street on West Bay, with restrooms and a small parking lot, this can be a fine place for morning sunbathing and swimming, and is popular among families with small children. But its most unique feature is that much of Traverse Cityís frontier waterfront was located just west of the beach -- you can still see the jagged stumps of old wharves and piers out in the water, which frequently washes up bits of sand-frosted glass and smoothed bits of planks from long-ago sawmills. Overlooking West Grand Traverse Bay at the foot of Division Street, on Grandview Parkway, just west of downtown. Traverse City MI
Best Family Beach: This most easterly of Traverse Cityís West Bay beaches, boasts an elaborate playground, lifeguards, restrooms and lots of grills and picnic tables shaded by tall pines, Bryant Park offers relief from the afternoon sun and a fine swimming beach where children can be easily supervised. Itís also, hands down, the best place in town to sit on the beach and watch the sun go down It is located where Garfield-M37 and Peninsula Dr. intersect at the base of Old Mission Peninsula Traverse City MI
Best Beach for young families and small children: This park at the cityís eastern edge is located in a quiet residential neighborhood thatís sheltered by lots of majestic pines. Here there are extensive picnic areas, restrooms, a nice play area, a lifeguard station and a shallow sloping beach. But the best advantage is that there isnít very much automobile traffic nearby, and the water is extremely shallow for quite a long way. Find it at the base of East Grand Traverse Bay and the foot of Front Street. Traverse City MI
Best Beach for Picnics and a Book: Located next to the NMC College Maritime Academy and the Maritime Pier. It's a great park for relaxing and reading a book or taking a walk out on the pier. It boasts a deep lush grassy area from the road, Picnic Tables, Grills and Swing Set. Mature oak trees provide plenty of shade in the grass for the hot days. It Hosts Church in the park on Sunday in the summer. A great family park on the beach at the foot of Park St. on Front St.
Grand Traverse Bay Traverse City Michigan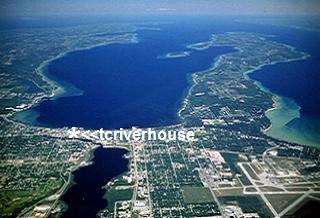 Grand Traverse Bay is located off Lake Michigan in Northern Michigan. The bay is 32 miles (51 km) long, 10 miles (16 km) wide, and up to 600 ft deep in spots. It is divided into two arms by the Old Mission Peninsula.

Traverse City is situated at the south end of the bay where the Boardman River empties into the west arm. Cherry orchards line the bay region, giving rise to Traverse City's claim to be the Cherry Capital of the World.

Grand Traverse Bay includes several important smaller bays. Northport Bay, Suttons Bay, Omena Bay, Bowers Harbor and Old Mission Bay.
Power Island
Power Island is a 202 acre property located in the west arm of Grand Traverse Bay. It is approximately 9 miles west from Downtown Traverse City, and 2 miles from the nearest public launch site at Bowers Harbor (located to the Northeast of the Island on Old Mission Peninsula).
Bassett Island
Located just off Power Island (connected via isthmus) is a two acre site named Bassett Island. There are five primitive campsites located on Bassett Island. Each site has its own picnic table, cooking grill, and campfire circle. There are maintained restroom privis servicing the Island. The Campsites can be reserved by calling the Parks and Recreation Office at (231) 922-4818. Reservations will be accepted for the up-coming camping seasons beginning January 2nd of that year.
Bellows Island
Bellows Island, located near the middle of Northport Bay, is owned by the Nature Conservancy and primarily a bird rookery. Bellows Island or Gull Island is a low gravel island, covered by shrubs and marked by a stone structure with 2-chimneys. The island is also home to a stone/metal/mirror sculpture.
Besides cherries, the surrounding countryside produces grapes and is one of the centers of the Michigan wine industry. Known for its shimmering blue water and golden sand beaches, the Grand Traverse Bay region is a popular vacation destination.